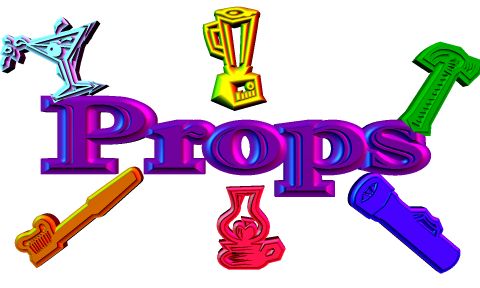 The Backstage Handbook
The book no self respecting theatre technician would be without.
The What, Where, When of Theater Props : An Illustrated Chronology from Arrowheads to Video Games
absolutely indispensable everything you every needed to know in one convenient package.
Theater Props Handbook : A Comprehensive Guide to Theater Properties, Materials, and Construction.
Yet again a must have.
Prop Builder's Mask-Making Handbook
Havenít used this one personally - but it is probably as great as the others.
The Prop Builder's Molding & Casting Handbook.
Like the others - the essential handbook.
Care and Repair of Everyday Treasures: A Step-By-Step Guide to Cleaning and Restoring your Antiques and Collectibles.
My mom bought me this one and it is a great "how to" book. Perfect for props people of all levels. It has very practical techniques that fit just about any budget.
New Theatre Words - theatre terms translated into 8 languages with pictoral references.
If youíre going on tour overseas this is a must have. That it just sounds darn interesting!
The Stage Rigging Handbook, 2nd edition
Letís be honest - this is never a bad thing to know!
Designing & Drawing for the Theatre
For those of us who foolishly sold ours back at the end of the semester!
Artist's Complete Health & Safety Guide
This book discusses in detail all the scary stuff we use. Letís face we all use a lot of dangerous chemicals and tools. Itís only fun till your face melts off or you cut off an appendage!
Backstage Forms
Want to have every form youíve ever thought might possibly be useful? This probably covers it. And donít forget to check out our online forms page - get forms emailed right to your door for free!


The New Tax Guide for Performers, Writers, Directors, Designers and Other Show Biz Folk
R. Brendan Hanlon
The most important stuff they don't tell you about in college!! If you work in this business you need this book - everything (including the book) is deductable!
From The Publisher:
This thoroughly updated edition gives the latest IRS rulings on IRA withdrawals and Roth IRA''s. New information on Child Tax Credit, Hope Scholarship Credit and Lifetime Learning Credit is presented in layman''s terminology. An essential guide for anyone involved in the arts seeking to increase their understanding of tax returns while maximizing their deductions.

Dramatic Imagination
Okay, so they made me read this one in college, and I actually liked it. Personally I think that everyone who works in theatre should read it. It is well written and very insightful and written by one of the legends of the theatre world.
Skeptical Scenographer: Essays on Theatrical Design & Human Nature
A compilation of twenty-nine articles, originally published in Lighting Dimensions and Theatre Design & Technology (TD&T), the essays in this new book range from silly (Murder, He Wrote), to sublime (Regarding Chaos and the Theatre). In between, Mr. Salzer's pen probes the paradox of how most New York designers spend all their time working out of town (Damn New York Designers), he wrestles with philosophical issues (Power, Greed, Self and Humiliation), and he even takes a political potshot or two (Art, Nude Children and Pornography). - Broadway Press
A Company of Stars,
We Open on Venus, and
A Slight Detour
These are great books about the theatre set in the future. The author actually knows theatre: how it works and who works in it. And if youíve ever worked at Summerfun Theatre, in New Jersey - youíre going to laugh when he mentions it, and itís "ingenious chap" of a producer.